Practical workshops for teams to build better products and more efficient processes.
Learn to discover, understand and leverage customers' real needs quickly.
Become more creative and collaborative as a team.
Reduce risk of introducing unneeded products and services into market.
Run better and more efficient meetings, turning them into opportunities for creative sessions.
Learn how to tackle product and process challenges within a short amount of time.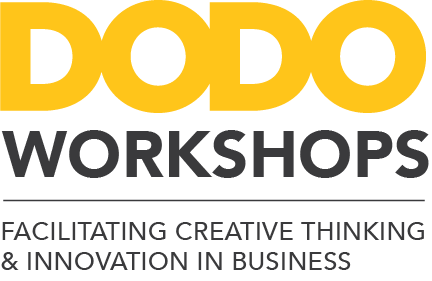 Workshops to Facilitate Creative Thinking for Innovation
Today, the redefining of how companies should run has changed the nature of business today. Companies stand at risk of losing everything if they don't adapt quickly. Design is one way companies can successfully withstand the change that is happening. The team at DODO have built a series of workshops to equip teams within organisations on how to build and ship more successful products, how to discover, and answer to customer needs of today, and how to have more efficient processes. Look through our offerings to see which best suits your current needs.
Design Sprint
For Teams and Individuals
In just 5-days, test the potential of your product or service with real customers without making any serious investment.
Duration: 5 Days
Empathy Building
For Teams and Individuals
Understand and foster user empathy into your product and digital teams. Empathy is the bedrock of creating innovative and customer-centric solutions that satisfy customers and outperform competition. Learn how to discover and understand emotional, cultural and behavioural needs of customers, and translate relevant insights gotten into product and service solutions.
Duration: 3 Days
Decision to Action Workshop
For Teams and Individuals
Learn how to turn your meetings into highly creative and collaborative sessions. This workshop brings your team together to tackle a challenge around product or process. You will have clear and actionable next steps for your team by the time it's over.
Duration: 2 Hours
Client Testimonials
Omotayo Isabemoi
Product Manager, First Bank
"We were positively impacted by your session. We are sincerely looking forward to having you with us again."
Steph Crouchon
CEO & Founder, Design Sprint LTD.
"…if you are planning to run Design Sprints in Nigeria, you should connect with DODO"
Our Design & Innovation Initiatives
Design & Innovation Podcast
The Design and Innovation Podcast (DIP) features conversations with leaders and experts in Business and Design from around the world, around design, innovation, and global trends, looking at how they benefit businesses today.
The Innovation Series
A conversation with innovation and strategy leaders around the world. These series will benefit business leaders seeking to drive innovation within their organisations.