As its motto reads, Lagos is truly the centre of excellence. It may be hard to see at first glance, however, the lifestyle and culture of the people, the businesses and the amount of funds that go through the state, the very people that make up the city, help in positioning it as one of the most progressive cities in the world.
Lagos is known for being the frontrunner in Nigeria in the areas of fashion, sports, art and design, in raw talent and much more. Little wonder why every year a large number of people migrate to Lagos to be a part of the upward climb.
One of the fastest-growing industries in Lagos, Nigeria today, is the design industry, specifically UX/UI Design. With over 500 design agencies in Lagos, it is cluttered and cut-throat. So how does one go about selecting a design agency among myriads in the city to work with? Here's how you should go about it if you want the right one.
Before you start your search, as you build your brief these non-negotiables are things you must include:
The end goal, that is what you want to achieve with the project

Who is your target audience, your intending customers/users (you should know them, but be open to redefining who really your market is, because if you're working with the right design agency, they should be able to bring back insights from research that help you improve your customers' experience)

What features are you expecting to be in the design, and why?

What is your budget for the project

Timeline for the project
Keeping all this in mind will help you to set your focus and limits on the project.
You might be interested in reading The Past, Present and Future of UI UX design (A decade overview of UI/UX design)

Questions to ask to select the right UI/UX Design Agency to work with.
1. Do they have a process?
Before choosing a UI/UX design agency, you must understand why it's necessary to select one with a solid process. From our experience, companies select just any design agency without an understanding of design and the huge potential it has on their business. And so in choosing a UI/UX Design agency to work with, they just casually select anyone, or they use the same criteria they would use when selecting a vendor in another industry. With design, you're doing yourself a huge disservice if you follow that route.
In design, specifically UI/UX design, you must understand that there is a process, and as the name emphasizes, the process is centred around the user. And so any agency that doesn't understand the process of user-centred design is already a red flag. Unfortunately, people want things fast, many design agencies and designers ignore the process to deliver quickly to clients. What's the result? A myriad of horribly done websites, apps, and products that doesn't create a delightful experience for users..
When selecting a UI/UX design agency to work with, in Nigeria, you must tie the whole process to the experience you want to create for your customers, as well as your business goals. Hence the design agency must have a solid process in place that they use as they proceed to build your digital product.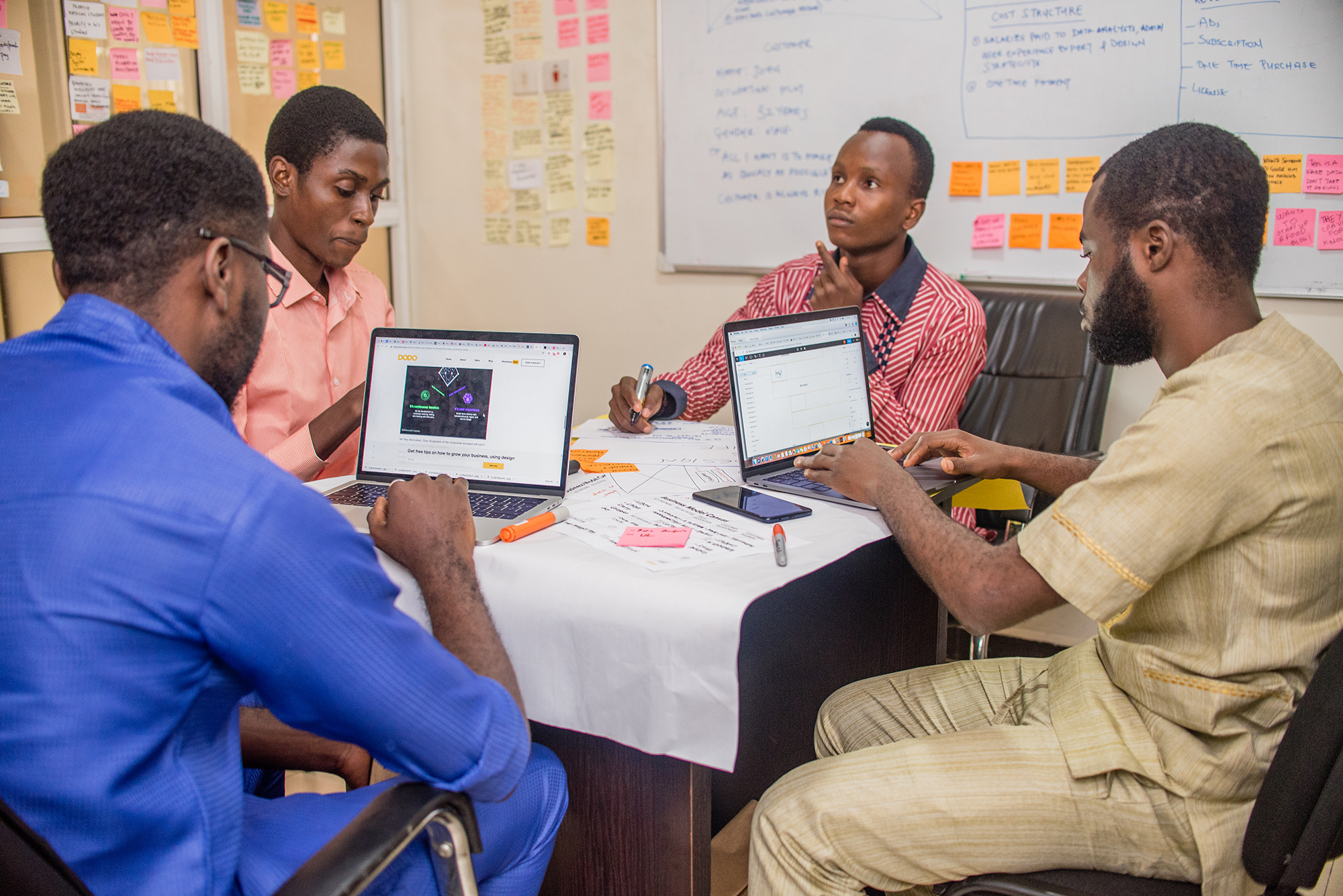 2. Do they have experience or a history?
Secondly, you need to see their portfolio, to know what their past projects were about, what did they do, what were the results? At times, it doesn't matter how many projects they have completed in the past, the quality of work is another important aspect.
You also need to check their approach on their past projects. Honest and detailed case studies could be helpful in finding out about this aspect. You might also want to check the quality of their work. Does their use of fonts, font size and choice of colours work in the context they're designing in? Check and ask for testimonials about them. This is very important because reviews and recommendations tell a lot about a company. It's good to check for peoples' reviews, but even better is to get recommendations about the design agency from past clients. This will give you an insight into how they treat their clients, the quality of their design and the calibre of solutions they proffer.
Check this out also Growing a 'design-centric' Web Design Agency in Nigeria
3. What value are they bringing to your project?
After checking for their experience and work quality, another thing you might want to ask is about the value they can bring to your project or company. Critically consider the value the design agency will add to your bottom line through their solutions, (and yes I iterate again, that design solutions should be tied to business goals). You also want to consider a design agency who has had a lot of exposure and experience in handling projects from SMEs to possibly multinationals.
If you can get the right answers to all the points shared above, I believe you will not only choose the right UI/UX design agency, you will also see considerable positive impact to your business, that you never thought design could offer you.
I would like to know your thoughts on the above points, kindly drop your comments below.