Challenge
Improve product team processes to ensure farmers success
In furtherance of Babban Gona's goal to serve 1 million smallholder farmers by 2025, Babban Gona desired to help their product team have more user-centered processes in order to deliver more user-friendly products.
DODO was tasked with understanding the farmers within the Babban Gona ecosystem, so as to proffer clear solutions that will be adopted by the product team in ensuring that they are able to create digital products that are simple for every farmer within the ecosystem to use without any form of assistance.
Achievement
User and stakeholders of the organisation, along with recommendations, tools, and UI templates to guide the team s they build for them
To better understand all stakeholders it was important to undergo Design Research, to understand their goals and motivation as it informs their day to day activities and also carry out User Research to clearly identify challenges and opportunities across the different products that users with the ecosystem engage with.
Considering the ban on travelling within Nigeria, our methodologies focused on remote moderated and unmoderated testing.
DODO engaged Farmers, Field Officers, and Supervisors virtually, identifying opportunities for improvement. We were also able to conduct various user tests using tools like lookback to engage remotely with Farmers, Field Officers and Supervisors, observing them as they tested out the prototypes. with all stakeholders to better inform us of the best strategy to take going forward.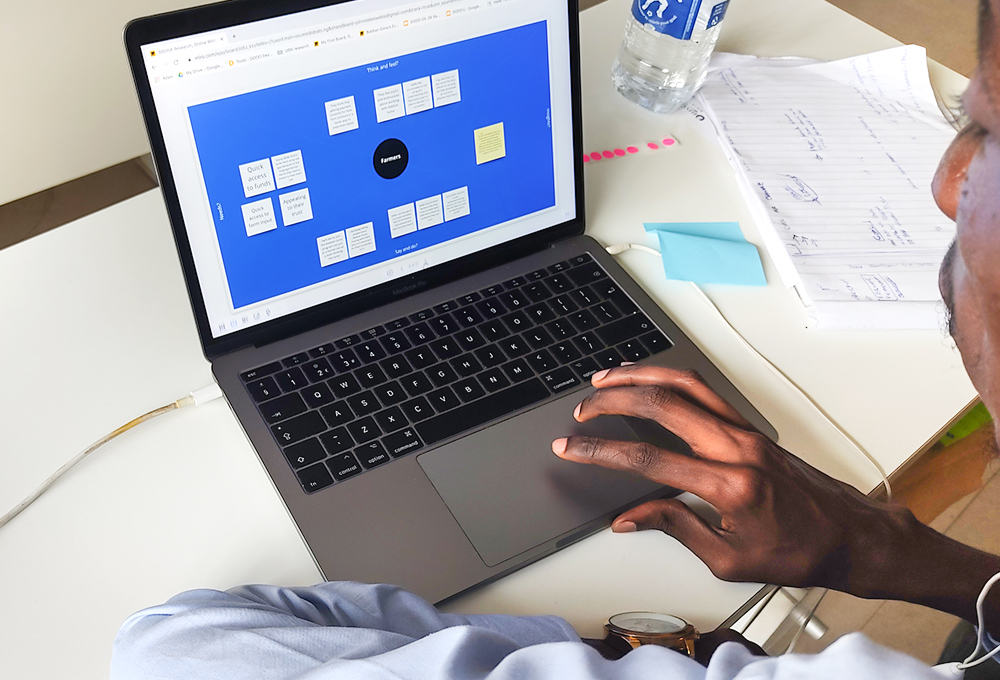 What We Did
Design Research &
UI/UX Design
In furtherance of Babban Gona's goal, DODO Design undertook a series of activities around Design Research and UI/UX Design to ultimately improve the processes for Babban Gona's stakeholders most especially the farmers.
Design Research
Understanding the ecosystem
We also carried out design research, which led us to understanding all stakeholders (Farmers, Field Officers, Supervisors and their entire ecosystem). To do this we needed to engage with them through interviews and the use of Experience Journals which was used to capture their day-to-day activity. We developed empathy maps for each stakeholder segment to ensure that we fully understood their painpoints, tasks, influences and goals. This resulted in well detailed solutions that improved the overall experience with the users. This solutions were mostly tested virtually with actual users to measure how well their experiences have been improved.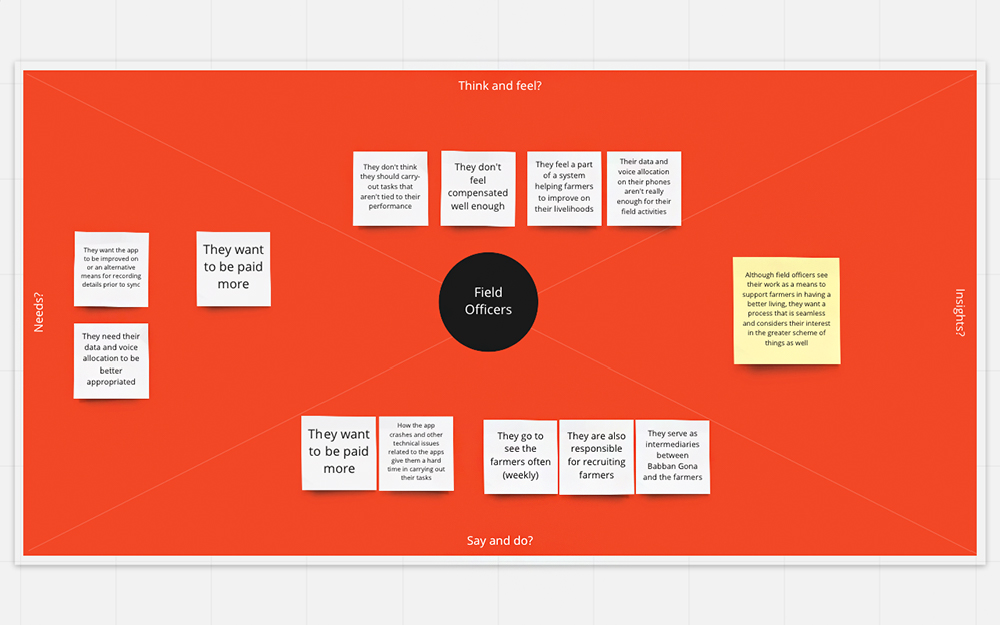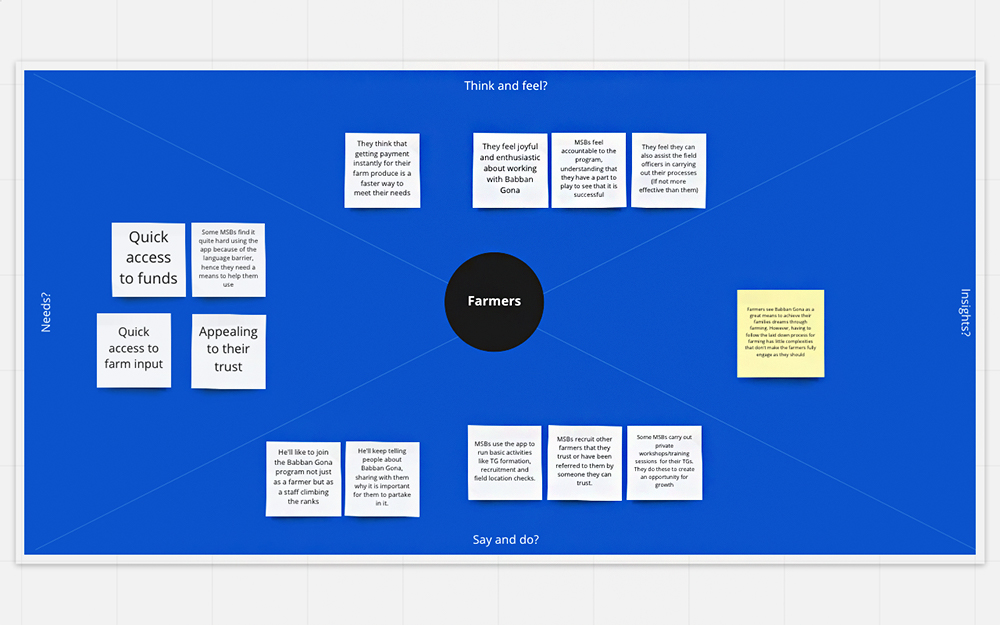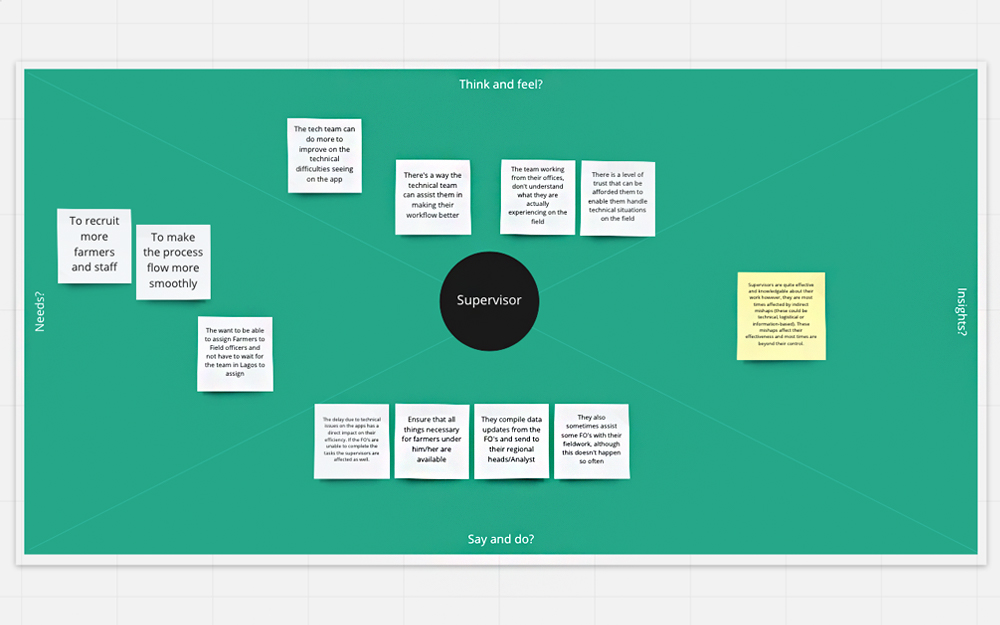 What we found
Although the processes and services had recorded successes, there were still areas to be addressed to improve efficiency and experience
We gave recommendations covering how they built digital products, conducted training and developed every other material needed to ensure that they are able to arrive at their desired result.
Seeing that their activities were new to us, we at DODO had to better understand how they go about their processes and other daily routines required of them. To help us understand we interviewed various Farmers, Field Officers, Supervisors and other stakeholders within their ecosystem.
To help us with our empathy maps, we also distributed Experience Journals to Field Officers, so they could write down their daily activities and other unique experiences especially as they relate to the use Babban Gona's digital products. The details written down by these Field Officers were very helpful to our Design Research team, as we could clearly identify pain points and possible solutions that could be adopted to improve the overall experience for the Field Officers.
UI/UX Design
Designing for farmers in Nigeria
Considering that one of the primary user segments we were designing for were farmers, it was very important that we considered, eyesight, disability, literacy and digital savviness to ensure that the farmers who are were the target users for majority of Babban Gona's products and services, get the best experience possible from those products/services. The farmers were also involved in the entire design process.
In testing to understand the best screen design that resonates with the farmers, we developed 2 different screen styles for them to select their most preferred.